Heute möchte ich euch einen ganz tollen Gastbeitrag von dem Blog "Spross – Sprouted consciousness" vorstellen! Danielle und Wolfgang haben eine Challenge mit leckeren veganen Rezepten für 7 Tage erstellt. Ich persönlich bin total begeistert davon, da ich weder vegan noch vegetarisch lebe, aber weiß, dass der Lebensstil definitiv unserer Umwelt, vor Allem dem Klimawandel helfen würde. Außerdem stammen fast alle unsere tierischen Produkte aus Massentierhaltungen und deren Konsum sollte sowieso stark reduziert werden. Ich persönlich würde gern mehr tierische Produkte gegen vegane Gerichte austauschen, aber bis jetzt ist mir einfach keine gute Alternative zu meinem täglichen Butter- und Käsebrot eingefallen. Wenn du genauso wie ich manchmal an Ideenlosigkeit leidest, dann probier doch die Rezepte aus der Challenge!
Breakfast Ideas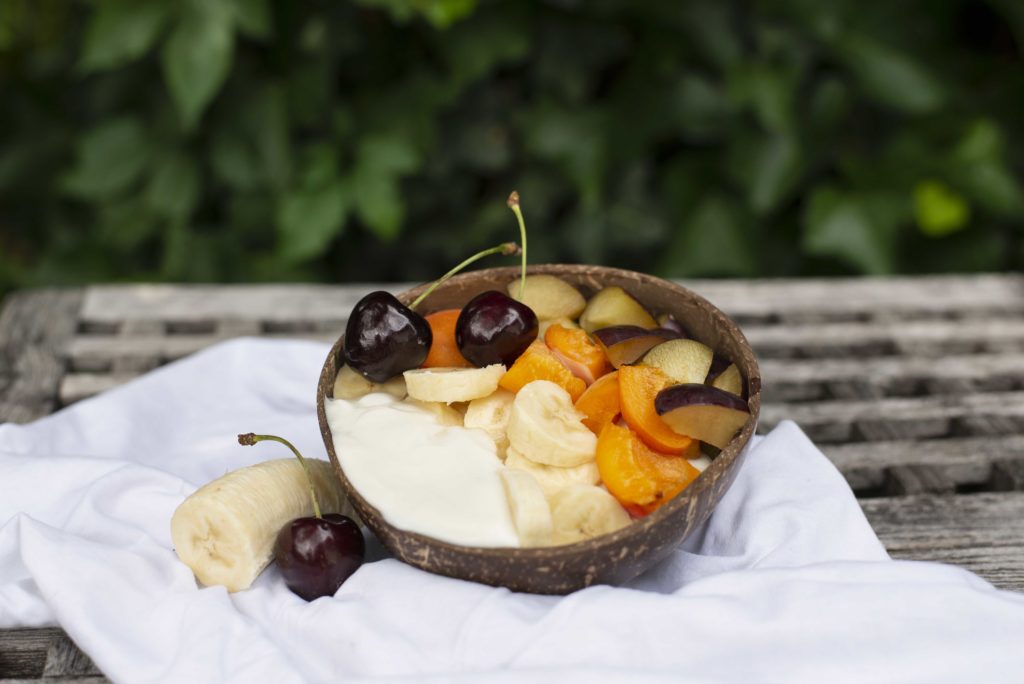 Oatmeal and Berries
Simply mix your oats with either water or your favorite plant based milk, throw in some chopped strawberries, bananas, apple slices, blueberries, whatever your heart desires. Cook it up to desired consistency (adding more liquid when needed) and enjoy that bad boy! (Tip: I like to sweeten just slightly with a little Agave).
Bread or Toast with Peanut Butter, Jelly, Vegan Butter and Herbs, etc.
Pretty simple, but it does the trick! We love a little vegan butter with some herbs.
Fruit Parfait
Gather some of your favorite fruit and mix in a bowl with your favorite non dairy yogurt. Soy yogurt is great and inexpensive! There is also coconut yogurt, cashew milk yogurt, almond yogurt, etc. Lots of options to choose from!
Granola
Enjoy your granola with plant based milk or with some vegan yogurt for a yummy, refreshing breakfast. But make sure your granola is vegan! Sometimes products like that use milk powder or milk chocolate and not a vegan dark chocolate.
Tofu Scramble
Ingredients:
Tofu
Olive Oil
Bell Peppers
Onion
Garlic
Potatoes (Sweet Potatoes are amazing with this)
Really any veggie is fair game here! Pick your favorites!
Instructions:
Remove your tofu from the packaging, cut in half lengthwise, and place both halves on top of a paper towel. Place a second paper towel over the top and put a small saucepan or tupperware container filled with water on the top. (This is just to add weight to the top to help drain the liquid from the tofu)
Chop up all your veggies. In a large saute pan on medium high heat, add about 3 Tablespoons of olive oil. When heated up, add in your veggies. I recommend starting with the heavier veggies first because they take longer to cook. Potatoes for example. Once all veggies are added, continue cooking on medium heat until completely cooked through.
Next, take the tofu out from under the pan, and legit break it apart and crumble it over the top of the pan. Mix well until heated through.
Season to your desire with salt, pepper, herbs, whatever you'd like.
Plate it up and enjoy your protein rich breakfast!
Lunch and Dinner Ideas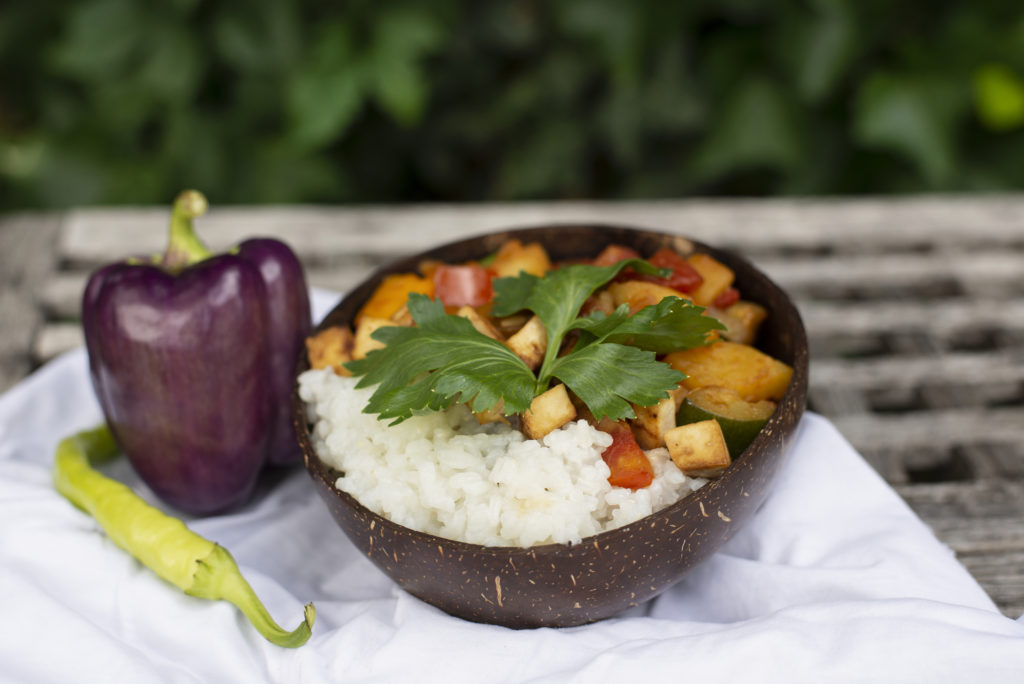 Vegan Tikka Masala
A classic Indian dish made vegan, and literally my favorite meal to make. This recipe comes from theironyou.com which is a fantastic blog about becoming the healthiest "you" that you can be. You can find the full recipe here: https://www.theironyou.com/2016/03/vegan-easy-chickpea-tikka-masala.html?m=1
Tofu Veggie Stir Fry
Another super easy lunch or dinner idea! Here's what you need:
1 Block of Firm or Extra Firm Tofu (cubed)
Peppers (green, red, yellow, any combination of pepeprs)
Mushrooms
Corn
1 Onion (diced or in slices)
Broccoli and/or Cauliflower
Peas
2 cloves Garlic (minced)
Salt and Pepper
Rice (cooked)
Olive Oil
Instructions:
Put a few tablespoons of olive oil in a pan and heat to medium high.
Add in the onion and saute until translucent
Add in the minced garlic and saute for 1 minute
Add in all the other veggies and mix well
Add in cubed tofu pieces and mix well
Turn down heat to medium and add in about 2 tablespoons of soy sauce
Continue to saute until veggies are all cooked through
Add salt and pepper as needed
Serve over rice and enjoy!
Noodles with Sweet Potato Sauce
This sauce is SUPER yummy and we make it pretty frequently. It's also super easy to make so it's a quick way to get in your veggies but still satisfy that creamy craving.
What you need:
2 large sweet potatoes (cubed)
Plant based milk (we use Oat Milk but you can use any plant based milk)
1 medium to large onion
3 large cloves of garlic (minced)
4 Tablespoons Nutritional Yeast
Vegetable Broth/Stock Powder or Cubes
Salt and Pepper to taste
Olive Oil
Noodles of your choice
Instructions:
Add 2 Tablespoons of Olive Oil in a large pot and turn on heat to medium high.
Add chopped onion to the pot and saute until translucent
Add garlic and saute for another minute
Add sweet potatoes and mix well.
Add water to the pot, just enough to cover the sweet potatoes but not more.
Add vegetable stock cube or powder to the water and mix.
Bring to a boil and cook until the sweet potatoes are cooked through
Remove from heat and add nutritional yeast.
Using a blender or a hand-held blender, blend the mixture until smooth. When the mixture too thick is, add some plant based milk, a little at a time until it is the consistency that you prefer.
Add salt and pepper until it is seasoned to your liking
Serve over your favorite noodles and enjoy!
Coconut Veggie and Chickpea Curry
This recipe is super delicious and super healthy! It's great served over rice, quinoa or couscous, but you can also eat with noodles.
What you need:
1 large onion (diced)
2 cloves garlic (minced)
1 can of chickpeas (drained and rinsed)
1 large sweet potato (cubed)
1 can coconut milk
Olive Oil
Yellow Curry Powder
Salt and Pepper to taste
Rice, Quinoa or Couscous (your choice)
Instructions:
Cook your rice, quinoa or couscous according to the package directions. Set aside.
In a large pot, turn to medium high heat and add 2 Tablespoons of Olive Oil
Add in onions and cook until translucent.
Add garlic and saute for 1 minute
Add in sweet potato and mix well
Season with a little salt and pepper
Add the entire can of coconut milk to the pot (if you have solids on the top of your coconut milk, that is totally normal and you need it for the recipe. It's just the fattier portion of the coconut milk solidifying.)
Add about 2 Tablespoons of yellow curry powder.
Bring mixture to a boil and then lower heat to medium.
Add chickpeas to the pot and continue to cook.
When sweet potatoes are cooked completely, taste to test the seasoning. Add more when needed.
If the mixture is too thin, you can use Cornstarch. Simply put 3 teaspoons in a small glass with 1 teaspoon cold water and mix well.
Serve over rice, quinoa or couscous and enjoy!
Vegan Chilli
There is nothing quite like a nice bowl of chili!
What you need:
1 onion (diced)
2 cloves garlic (minced)
1 can chickpeas (drained and rinsed)
1 can kidney beans (drained and rinsed)
1 can black beans (drained and rinsed)
1 green bell pepper (diced)
1 red bell pepper (diced)
1 can of corn (drained and rinsed)
2 cans of diced tomatoes
2 packages of your favorite chili seasoning mix
1 sweet potato (cubed)
Olive Oil
Salt and Pepper to taste
Instructions:
In a large pot, heat 2 Tablespoons of Olive Oil on medium high
Add onion and saute until translucent.
Add the bell peppers and saute for 2 minutes.
Add garlic and saute 1 minute more.
Add the two cans of tomatoes to the pot and stir well. Turn down heat slightly so the mixture doesn't splatter everywhere while it heats up.
In a bowl, add the seasoning packets to 200ml of water and mix well. Add this mixture to the pot with the tomatoes. Mix well.
Add in all other veggies and beans (chickpeas, kidney beans, black beans, corn, and sweet potatoes. Mix well.
If it is too thick, you can add a little water to thin it out to your liking.
Cook until sweet potatoes are fully cooked through
Serve with your favorite vegan sour cream and vegan shredded cheese, or just enjoy as is!
Roasted Veggies with Rice
Super yummy and super quick meal that will keep your tummy satisfied!
What you need:
Sweet Potatoes
Bell Peppers
Onion
Carrots
Potatoes
Olive Oil
Rice
Instructions:
Prepare rice according to package instructions.
Preheat oven to 400 degrees F or (about 200 C)
Cut all veggies to about equal sizes (but not super small otherwise they will burn).
Toss the veggies in about 2 Tablespoons of Olive Oil
Season how you like: We personally love a little salt, pepper, paprika, turmeric, garlic powder, and a few herbs like rosemary or sage.
Toss well with the seasonings and lay out on a baking sheet lined with parchment paper or aluminum foil.
Put in oven in the middle rack and roast for about 25-35 minutes. Keep an eye on them and stir once in a while so they don't burn. When everything is easily poked through with a fork, they are done!
Serve with rice and enjoy!
Falafel Wraps
Falafel is one of our favorite things to make! So flavorful and super healthy!
What you need:
1 package of falafel mix
1 can of chickpeas (drained)
Hummus
Bell Peppers (sliced)
Corn
Onion (sliced)
Olive Oil
Tortillas
Rice or Couscous
Instructions:
Prepare rice or couscous according to package instructions.
Add falafel mixture to a large bowl.
Add the amount of water to mixture as stated on the package instructions.
In another bowl, mash the chickpeas with a fork or a potato masher. Mash as well as possible so there are no large pieces.
Add the chickpeas to the falafel mixture and mix until well combined. You can add a little water if it's too hard to mix, but it should be really thick so it does not get too sticky. If it's too sticky, you can add a small amount of flour and mix.
Cook onion and peppers in the oven or in a pan, or just leave them raw.
Form small patties with the falafel mixture.
In a pan, heat 4-5 Tablespoons of Olive Oil on medium high heat.
Add the falafel patties to the pan, turn down heat to medium, and cook, flipping over once, until brown on both sides.
Now assemble your wraps! We like to put a small amount of hummus on the tortilla, then a little rice, then veggies, falafel and roll it up! Enjoy!
Snacks/ Smaller Meals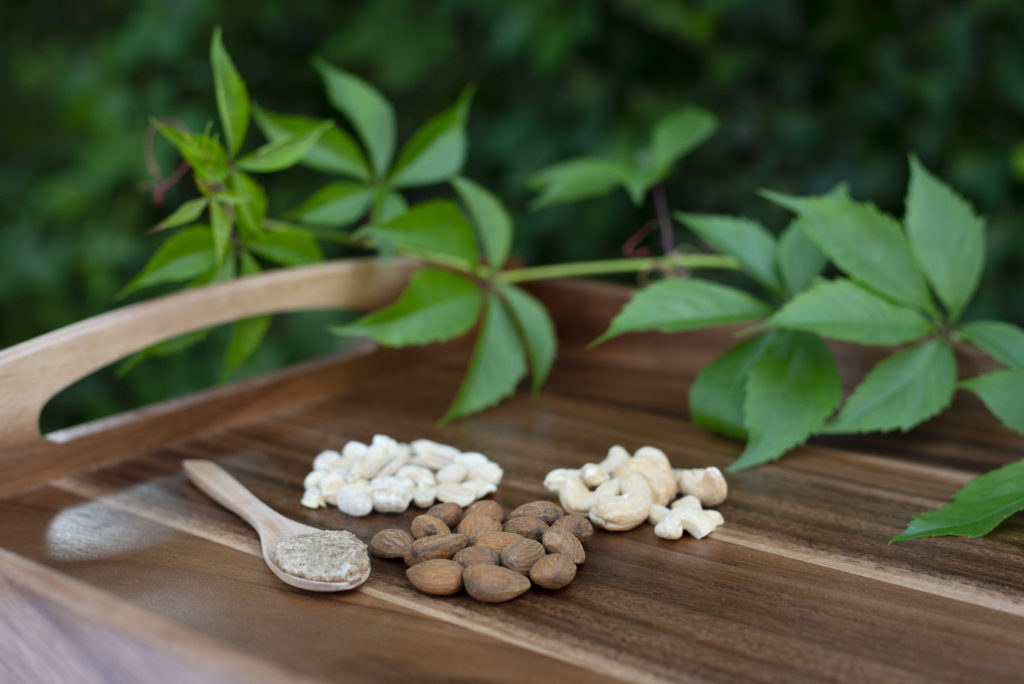 Salad with Vegan Dressing
Prepare your favorite greens and veggies, and add a yummy vegan dressing.
My favorite dressing is:
1 Tablespoon Olive Oil
3 Tablespoons Balsamic Vinegar
3 to 4 Tablespoons of Pumpkin seed oil
1 teaspoon of Agave
1 quick sprinkle of garlic powder
Combine in a small jar, close jar and shake well. Pour over your favorite salad!
Veggies and Hummus
Super good snack! Just cut up some veggies (I like carrots, peppers, tomatoes and cucumbers) and dip in a little hummus.
Nuts
Go out and get yourself a great mix of nuts! Cashews, peanuts, almonds, walnuts, hazelnuts, whatever you like best! Nuts have healthy fats and are typically high in protein!
Pringles
Did you know that some Pringles are vegan!? I know, it's not the healthiest snack, but just because you're vegan doesn't mean you can't indulge once in a while with your favorite snacks! Simply look on the container because the vegan ones say they are vegan.
Desserts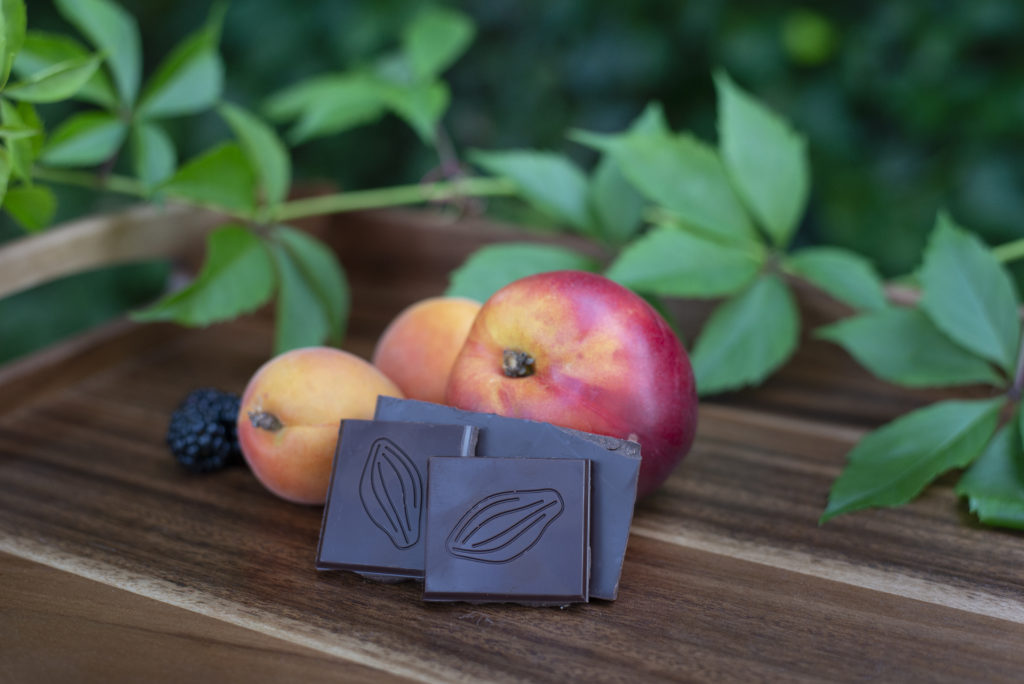 Ben & Jerry's Vegan Ice Creams
Yes! Ben & Jerry's makes vegan ice cream and let me tell you, it is amazing! It's made with almond milk and is truly divine! It's a little pricey, but totally worth it!
Oreos
Did you know that Oreos are vegan? I can't speak for all the flavors but the original and mint flavors are for sure vegan. One of those accidental vegan foods that we are happy to indulge in!
Dark Chocolate
Make sure to check the labels, but usually anything over 70% cacao is vegan!
Vegan Mini Chocolate Chip Cookies
One of our own recipes that we love! Check it out here: Vegan Cookies
Vegan Chocolate Cake
Another Spross recipe that we highly recommend! Check it out here: Vegan Cake
We hope you liked this challenge and please share your thoughts with us in the comments below and check out our blog!
Please share with your friends and family and make sure to tag us on Instagram @sproutedconsciousness